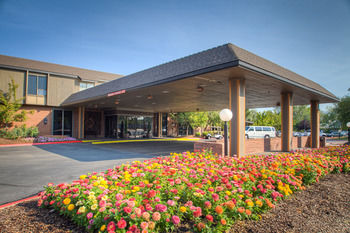 Northwest Regional Convention
Fleet Reserve Association and
Ladies Auxiliary FRA
The Riverside Hotel
Boise, ID
August 17-18, 2018
Hosts: Gem State Branch and Unit 382 Nampa welcome you to the 2018 Northwest Region Convention to be held August 17-18, 2018 at the Riverside Hotel in Boise ID. More information will be found up until convention time on our website (www.fra382.org).
Hotel Information: The Riverside Hotel is located at 2900 Chinden Blvd. Boise, Idaho 83714. Attendees may call (208) 343-1871 and ask for the FLEET RESERVE group rate.  The rate of $102.00 plus taxes will be in effect 4 days before and 2 days after. All rooms are NON SMOKING. There are suites available, please call the hotel for information.
Transportation and Parking:  Our Courtesy Airport Shuttle will take you   directly from the Boise Airport to our hotel, located approximately 15 minutes away.     For those choosing to drive, we offer over 700 complimentary parking spaces.
Accommodations:  Our beautiful hotel offers 303 guest rooms, including 33 suites.  All rooms feature one King Bed or two Queen Beds, individual climate control, flat screen television, free wireless internet, coffee maker, down bedding and more.  We also provide 6 handicap accessible rooms.
Services:  Guests enjoy conveniences such as free on-site parking, business center, guest marketplace, room service and on-site bicycle rental.  Upon arrival guests are greeted with a warm welcome, and freshly baked chocolate chip cookies.
Dining: The hotel features a variety of restaurants and lounges including: The Riverside Grill, Sandbar Patio Bar & Grill (seasonal), Room Service, Bar 365 and The Sapphire Room. Also available, our incredible Idaho Preferred Breakfast Buffet and Weekend Brunch!
Recreation: The hotel is situated on 14 acres along the Boise River, with direct access to the beautiful Boise Greenbelt.  The hotel features courtyards, huge seasonal outdoor swimming pool, splash pad, hot tub, fitness center, life size chess game, petanque court and bicycle rentals.  In addition to the many amenities and features to be found at The Riverside Hotel, you may also enjoy visiting some of the following area attractions:  Bogus Basin Ski Area, World Center for Birds of Prey, Boise River Greenbelt, Idaho Stste Capitol Building, Kathryn Albertson Park, Julia Davis Park, Idaho Ice World, Zoo Boise and Boise Art Museum just to name a few.
Hospitality Room: The Hospitality Room is Suite 124 and will be open from noon to 2300 on Thursday, August 16, 2018 for those guests that arrive from out of the area early. Normal days for the Hospitality Room are Friday and Saturday, August 17-18, 2018. There will be all types of snacks provided at all times. Coffee will be available for those that are early risers. We will be holding a  50/50 with the drawing to be held at the banquet on Saturday night. The Branch and Unit Ladies will be doing a raffle and silent auction of a lot of fantastic merchandise.
As time draws nearer to the Convention dates, we will be updating the newsletter for your information. We would love to see as many regional Shipmates and Ladies come to Boise for a fun time.
Contact Information
Convention Chair: 
PRPNW Tom Flanik
15686 Cumulus Way
Caldwell, ID 83607-5159
208-455-8100
Co-Chair/Correspondence:
PNC Bill Hall
2472 N. Tangent Ave.
Meridian, ID 83646-7588
208-695-1664
Treasurer:
Rose Hall
2472 N. Tangent Ave.
Meridian, ID 83646-7588
208-695-1729
LAFRA Chair:
Rose Hall
2472 N. Tangent Ave.
Meridian, ID 83646-7588
208-695-1729
Credentials:
PRPNW Dan Holloway
2544 W. Sheryl St.
Meridian, ID 83642
208-888-1196
MEAL SELECTION FOR
LUNCH
BURGER BAR
Mixed Greens with Assorted Dressings
Relish Tray of Lettuce, Tomatoes, Onions, and Pickles
Italian Pasta Salad
Buns and Assorted Cheeses
All Beef Grilled Hamburger Patties
French Fries
Condiments
Riverside Cookies
Ice Tea and Lemonade
$16.25 Per Person                           Number of meals_______    Cost_______
DINNER
Chicken Parmesan
Mixed Greens with Assorted Dressings
Assorted Rolls with Butter
Parmesan Breaded Chicken Breast on a bed of
Spaghetti with Marinara and Cheese
Sauteed Fresh Vegetables
Choice of Dessert
Iced Tea and Lemonade
$26.00 Per Person                            Number of meals­­­­­­________  Cost_______
VEGETARIAN OPTION
Fettuccine Primavera
Tender Pasta with Fresh Vegetables in an
Alfredo Sauce
Same amenities as with Chicken Parmesan
$26.00 Per Person                            Number of Meals________ Cost________
                                                                                     TOTAL COST________
PLEASE SEND YOUR PAYMENT TO: TREASURER
                                                          ROSE HALL
                                                          2472 N. TANGENT AVE.
                                                          MERIDIAN, ID 83646-1664
NO LATER THAN 1 AUGUST 2018